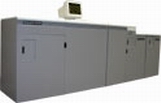 COM (Computer Output to Microfilm) is a process of storing data from mainframe or magnetic tapes onto Microfilm. Besides, it can save main-frame memory, increase working efficiency, reduce costs for paper printing, copying, distribution. Also, it serves the following benefits:
Legal Copy
COM has been served as legal copy for a long time. It became a standard form of legal document all over the world.
Eye Readable
Microfilm can be read by simply a magnifier. It does not necessary need any electronic device to view it.
Technology Independant
Microfilm has been invented for amost a centray. Unlike other technology the standard will not change due to technical upgrade.
Low Running Cost
Using COM to store computer print-out report reduce cost significatly. It saves cost to purchase paper, store and distribute paper document.
Environment Protection
The technology saves thousands of papers; hence saves thousands of trees.
COM system can store Chinese / English, numeric characters, and also bitmapped image. The production of COM is as follows: