If you want to streamline your document management processes and boost company-wide productivity, look no further than Ngenuity.
Equipped with all of the benefits you've come to love about BÖWE BELL+HOWELL scanners plus an array of new features, Ngenuity offers optimal image quality and scans a wider range of documents than any other scanner in its class.  With an easy-to-use operator interface and smart front panel functionality, Ngenuity is user-friendly and ideal for companies in industries such as healthcare, financial services, insurance, government, transportation and service bureaus.
Further, Ngenuity is made in the U.S.A and built to last.  It features durable parts and a low overall cost of consumables. 
But we've only scratched the surface.  Check out the features section to learn more about what makes Ngenuity a versatile, strong, high-performance scanner that comes ready to work for you.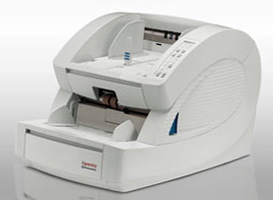 Armed with a bevy of little features that make a big difference for companies across industries, Ngenuity saves you valuable time and guarantees optimal image quality every time you scan.
Productivity.  In addition to fast speeds, Ngenuity features smart paper handling and large feeder tray capacity to improve efficiency and ensure that you spend less time hassling with document preparation.
Image Quality.  SharpShooter™ camera technology and reliable LED lights team up to offer picture-perfect image quality and improve View InfoTrends Videoforms processing capabilities.  Onboard image enhancement features further optimize image quality without sacrificing speed.
Low Cost of Scanning.  Ngenuity features long-lasting parts, a low cost of consumables and comes with everthing you need to start scanning.  In other words, Ngenuity offers top value.