A new production scanner that performs up to 30 percent faster than previous models, and is ideal for high-volume document imaging in the financial services, insurance, service bureau, government and healthcare industries, is now available from Bowe Bell + Howell. Made in the United States, the new Spectrum XF includes sophisticated camera technology that supports faster speeds, and Kofax¡¦s VirtualReScanR (VRS) 4.0 image enhancement with Auto Color Detect ¡X onboard.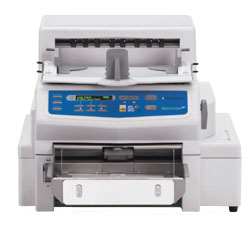 Best Combination of Features: Performance Without Compromise
Fast and reliable, Spectrum XF is available in three main speeds of 140, 120 and 90 pages per minute (reflected in the new model numbers: 8140D, 8120D and 8090D), with optional color and imprinting on all models, and optional simplex scanning on the 8090 model. Spectrum XF can capture up to 140 pages per minute, with a daily duty cycle of 60,000 pages, which is up to 20 percent faster than most scanners in its class, to provide better throughput performance for both capture and forms processing users.
Spectrum XF now features the industry¡¦s most advanced camera. Its TriLinear 7.5K CCD camera provides sharp images at faster speeds, capturing 40 megapixels per second.
With Spectrum XF, scanning documents in color is as efficient as scanning in grayscale or bitonal. In addition, the scanner¡¦s accelerated bitonal speeds, combined with enhanced image quality and onboard image enhancement from VRS, deliver the highest optical character recognition (OCR) and intelligent character recognition (ICR), as well as superior barcode recognition rates for cost-effective forms processing.
Bowe Bell + Howell was the first manufacturer to implement VRS onboard. A VRS board built into the scanner begins document processing before the image reaches the PC, so the scanner maintains its rated speed.
Onboard Auto Color Detect: Choice Without Compromise
Auto Color Detect eliminates the labor-intensive process of inserting patch code separator sheets between color and black-and-white documents. Auto Color Detect automatically senses color documents and scans them in color, and senses black-and-white documents and scans them in bitonal ¡X even when mixed.
Because Auto Color Detect is built into Spectrum XF, users can scan in color at rated speed. A service bureau, for example, can quickly complete all legal, pharmaceutical and other color scanning. The cost to scan in color is now the same as bitonal, so bureaus can make more margin on color scanning while maintaining current color pricing.
Other Auto Color Detect features include Advanced Electronic Color Dropout and Color Background Saturation and Dropout. Advanced Electronic Color Dropout allows a user to drop out any form background color ¡X up to three different colors per side ¡X and receive a bitonal image output. With Color Background Saturation and Dropout, users scanning in color can ¡§smooth¡¨ document image backgrounds into one uniform color. This reduces file size up to 40 percent, and makes images easier to read and store.
Maximum Productivity Over the Life of the Scanner
Spectrum XF also features intelligent Ultrasonic Multifeed Detect, so envelopes and document attachments such as taped photographs and receipts are easily scanned without being misinterpreted as double-feeds or requiring the user to rescan an entire batch.
Spectrum XF works with ImageControls, ISIS or TWAIN drivers to interface with any scanning application. The scanner¡¦s consumable parts, such as user-replaceable skimmer and separator rollers and user-replaceable lamps, last longer than those of any other scanner in its class.