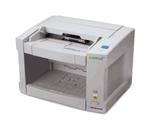 "All-In-One-Box" Duplex Color Workgroup And Departmental Scanner
"Sidekick is an Easy-to-Use, Compact Scanner Ideal for Small Offices"
Bowe Bell + Howell Scanners introduced a cost-effective workgroup and departmental duplex color scanner bundle that contains, in a single box, everything an end user needs to connect and operate a total desktop scanning solution.
The new scanner, called Sidekick, features both color and bitonal scanning capabilities and excellent speed and image quality for an entry-level scanner. It is available in four models: the Sidekick 1200, for workgroup applications, and the Sidekick 1400, for departmental applications.
The "all-in-one-box" bundle consists of the scanner, USB 2.0 cable, and Kofax's new Capio? scanning application and VirtualRescanR (VRS) image enhancement technology.
Ideal for Small Office, Distributed Scanning
The Sidekick bundle provides a powerful desktop imaging solution for small offices, such as medical practices, insurance, financial and legal offices, and departments of educational institutions, government organizations and hospitals. Its small footprint and ease-of-use also make it ideal for distributed scanning systems, where smaller, low-volume scanners are used at multiple locations to capture documents and send the images on to larger, central processing locations.
Sidekick features a daily duty cycle of 4,000 pages per day. It handles a wide variety of document sizes, ranging from 2" x 2.8" to 8.5 x 14" (legal size).
Saves Time, Reduces IT Support Needs
Sidekick's simple design saves users time and reduces the need for technical support. In addition to its complete hardware/software bundle and do-it-yourself setup, Sidekick features simple and versatile connectivity, including USB 2.0 and SCSI III compatibility.
Sidekick is the industry's first scanner to be bundled with Kofax's new Capio software, a professional-strength document capture solution for desktop information management. Capio uses VRS technology to automatically check and adjust alignment, brightness, contrast and image clarity, delivering superior image quality and eliminating the need to rescan documents.
Exclusively from Fortune Information Systems (Int'l) Limited, the new Sidekick models feature color and bitonal, and duplex and simplex scanning options. For end users' time-date endorsing or other file recognition needs, a front-page, pre-scan imprinter is available as an option for Sidekick 1400.