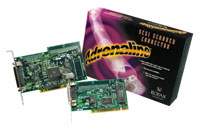 Leader in scanning enhancement product.
Adrenaline is a complete family of scanner controllers, image processing accelerators, and software engines designed to offer the best support possible for professional document scanning. From workgroup to high-volume, SCSI to video, black and white to color -- Adrenaline makes your scanning experience easier, better, faster, and more reliable. The Adrenaline product family provides:
Certified compatibility - Kofax tests and certifies Adrenaline products to work with all kinds of document scanners, e.g. Bowe Bell & Howell.
Unrivaled technical support. - Unlike generic connector boards, Adrenaline is supported by people who know scanning: Kofax.
Dependable installation and operation. Adrenaline is designed for document scanners, so installation and operation are consistent and reliable.
Sophisticated image processing, including black border removal, deskew, line removal, deshade, destreak, despeckle, and character repair. (650i, 850. 1700 models)
Unsurpassed bar code recognition, plus advanced recognition features such as patch code recognition, page registration, and form recognition. (650i, 850, 1700 models)
Adrenaline choices range from the widely recognized 1700 and 850 accelerators for bitonal scanners, to the 650 and 450 controllers for colour and grayscale scanners, to the Adrenaline Image Processing Engine. No matter which Adrenaline product fits your needs, you'll get the best, most reliable scanning experience available.