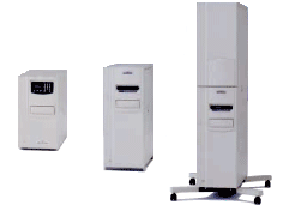 Terabyte-League Network-Compatible Write-Once and Rewritable Storage Devices Support Various Types and Any Combination of Drives, Flip Mechanism and 9.4GB Double-Sided Media.
"High-Volume Data Management Solutions: For those
Require Large Capacity and Fast Performance"
The MC-8000U Series Library models are designed to meet the demands for a flexible and high-capacity data storage solution. Compatible with a variety of removable media, the MC-8000U Series is ideal for archiving everything from text-based documents to CAD data, high resolution images and digital audio/video files.
In today's business world, every company is striving for optimal efficiency to stay competive. For a fast, efficient and accurate administration, companies are turning to centralized storage repository of electronic documents such as invoices, bills and receipts. JVC DVD Library provides a document imaging solutions that enable easy and efficient management of massive amounts of data.
Key Features:
High-Speed Disc Changer
JVC optimizes data delivery times by inverting the disc during vertical positioning or "flipping on the fly." This eliminates the additional time needed to transport the media to a specified location, invert the disc, and then transport the inverted disc to its destination. All of the specifications of a high-speed and reliable jukebox mechanism are retained.
Choice of Drives
You can choose to have any type, quantity and combination of installed drives ( DVD-R,DVD-RAM, DVD-ROM, CD-R/RW, CD-ROM, etc) *. Multiple drive types can be installed at the same time.
Double-Sided Disc Carrier
Utilizing the latest 4.7GB DVD-RAM, DVD-R Drives, Flip Mechanism and 9.4GB double-sided media for the MC-8600U,JVC can offer up to 5.64TB of available near online storage.
Optional Disc Printer
With this optional disc printer, high quality and full-color 720X720 dpi text and graphics can be printed directly onto printable CD and DVD discs. This option will offer automatic disc labeling after recording.
Flexible Configuration
The number of SCSI buses, drive bays, and installation method can all be custom configured according to each customer's specifications.
For Further information, click here