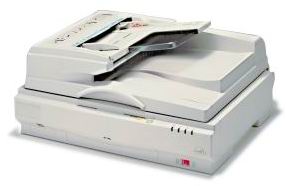 Delivering big performance at a small price.
Maximum Flexibility
Introducing the new 730DC Flatbed Scanner, a cost-effective color solution for high-output, large-format scanning at document sizes of up to 11" x 17". There's no better way to produce brilliant, large-format color images at truly remarkable throughput speeds. And perhaps best of all, the 730DC FB does it at a cost that's a fraction of other scanners currently available on the market.
The robust, built-in Automatic Document Feeder (ADF) handles documents up to 12" X 17", from thick to thin, mint condition or crumpled. And for bound or fragile documents that can't go through the feeder, the flatbed can handle them all.
Presenting an image of quality color
For true-to-life dynamic imaging, the 730DC FB provides real 600 dpi optical resolution and the rich color depth of 36-bit input. It achieves a maximum output resolution of 2400 dpi with 12-bit input to ensure crisp, clean and exceptionally legible characters use after use, day after day.
The 730DC FB comes with a standard SCSI interface.

Easy Integration, Natural Migration
All the models in the FB Series integrate easily into any imaging system, thanks to compatibility with most popular interface boards and application software support. A SCSI interface comes standard with each unit that makes connecting to many imaging applications remarkably simple.
Building customer satisfaction into every 730DC FB Scanner
Bell & Howell continuously strives to develop and sell products that answer our customers' real world needs. The 730DC FB is the product of this commitment. For unsurpassed peace of mind, it includes a comprehensive one-year warranty, on-site technical support in Hong Kong.